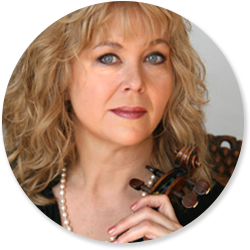 Music Lessons in Asheville, NC
Listen to and learn from a dynamic Musician.
From the age of 10, Stephanie Quinn was conservatory-trained in both violin and piano up through the Eastman School of Music. From there, she moved to New York City to study with Juilliard Violin professor, Felix Galimir and, work in the Philharmonia Virtuosi of New York, a fine chamber orchestra. Stephanie is a freelance soloist, ensemble leader, and tutti orchestra musician with an active teaching studio. Fluent in both classical and contemporary music, she has a list of professional credits that span many pages. When you need a musician who understands music to its fullest extent, look no further. Her mission is to share her musical passion and create inspiration, hope, and beauty to bring about peace through performance and music lessons in Asheville, NC.
Piano Services for Romantic Wedding Events
Live music is a must for any wedding. It is an exciting element that helps set the mood for your event. Stephanie Quinn is here to offer you excellent live music services. She can be the pianist for your wedding ceremony in Asheville, NC.
As a seasoned solo pianist, she can cover various styles, from classical music to upbeat jazz standards, and she even covers soul, pop, and rock songs. The piano is one of the most romantic and popular instruments for wedding events, and having Stephanie Quinn learn and play your favorite songs is the perfect way to create a lovely and memorable soundtrack to your big day.
Performance Schedule
With such versatility, Stephanie Quinn's piano performances are suitable for each part of your special day, including the wedding ceremony, drinks reception, and wedding breakfast. For wedding events, a typical example of the performance schedule might be as follows:

• Guests' Arrival
• Bridal Entrance
• Signing of the Register
• Bride and Groom Exit

It's common for pianists to continue playing as guests leave the room or for a further hour to keep the guests entertained during the drinks reception. Customize the performance schedule for your special day. Talk to Stephanie Quinn, an exceptional piano teacher and performer, today to discuss your event and learn how she can help you.
| | | |
| --- | --- | --- |
| Experience life's power through Saqqara Suite (Inside the Great Pyramid). This critically acclaimed album of Ms. Quinn's compositions features a solo violin, voice, and a chamber ensemble. Find out what inspired this music. | Transform your events and special occasions with a passionate performance. Stephanie Quinn offers a variety of musical services as a solo violinist and ensemble leader. | Learn how to develop relative pitch and perform at your fullest potential with the music lessons from Stephanie Quinn. She teaches you the therapeutic benefits and core fundamentals to play at your best. |